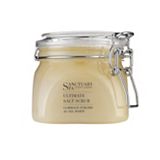 For mums who need some pampering
Stress bunny: You long to be cosseted, cosy and fussed over at a luxury spa. Unfortunately your budget and busy baby schedule mean it's not going to happen any time soon!
Stress-buster: 'A nice soak in a hot bath is a great relaxer for mums at the end of a hectic day,' says wellbeing expert Liz Tucker. 'The mere act of cleansing yourself helps you feel as if you're washing away the emotional debris of the day. You'll emerge feeling lighter.'
We Love: Sanctuary Spa Essentials Body Wash and Sanctuary Spa Essentials Salt Scrub
For mums who crave a romantic massage
Stress bunny: Your muscles are tense and taut from lifting your little one or finishing chores. And you can't remember the last time you and your partner enjoyed some cosy couple-time.
Stress-buster: Twist your partner's arm into giving you a sensual massage. 'A key way to tackle stress is to feel close to and loved by someone,' says Liz. 'A massage can really help you reconnect to your partner. When you have a baby it's important to remember that, while you're now a mum, you're still a woman with your own needs!' Massage also helps break down the build up of lactic acid, which is caused by stress and is responsible for those tiny knots of tension that pop up.
We Love: Horny Cow Seductive Bath and Massage Oil 100ml
Related Products:
Sanctuary Spa Essentials Body Wash
Sanctuary Spa Essentials Salt Scrub
Horny Cow Seductive Bath & Massage Oil

Related Categories:
Make-up
Hair Ideas Advice
Beauty Information Advice